SELECTED NEW VARIETIES 2020/2021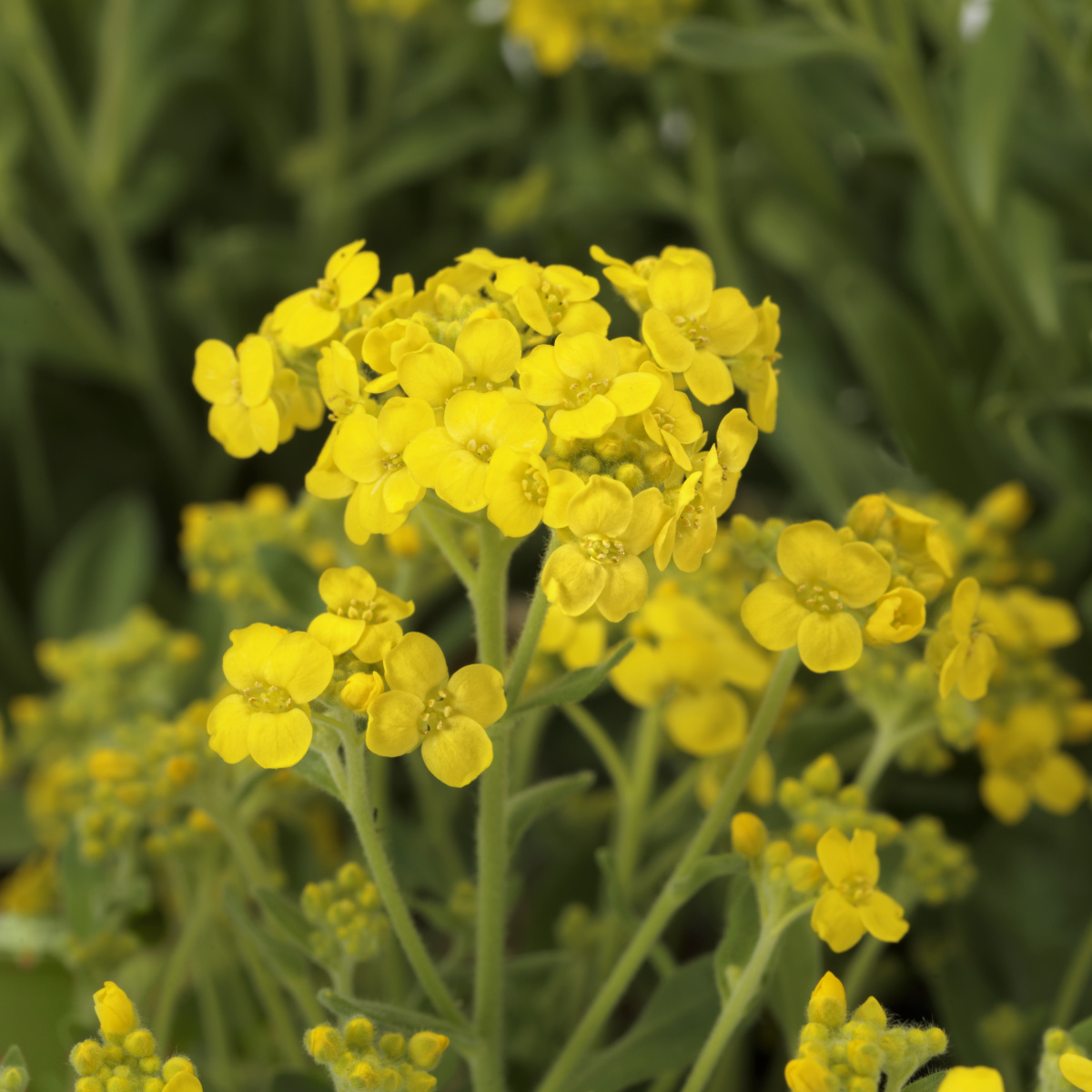 Alyssum saxatile, Gold Rush

7" spreading 7"; Improved, more compact & branching, with shorter stems so flowers better cover the plant canopy. Earlier flowering and more uniform in habit and timing than traditional strains. Evergreen plant blooms early spring and forms neat rosettes. For perennial containers and spring bedding. Pansy companion.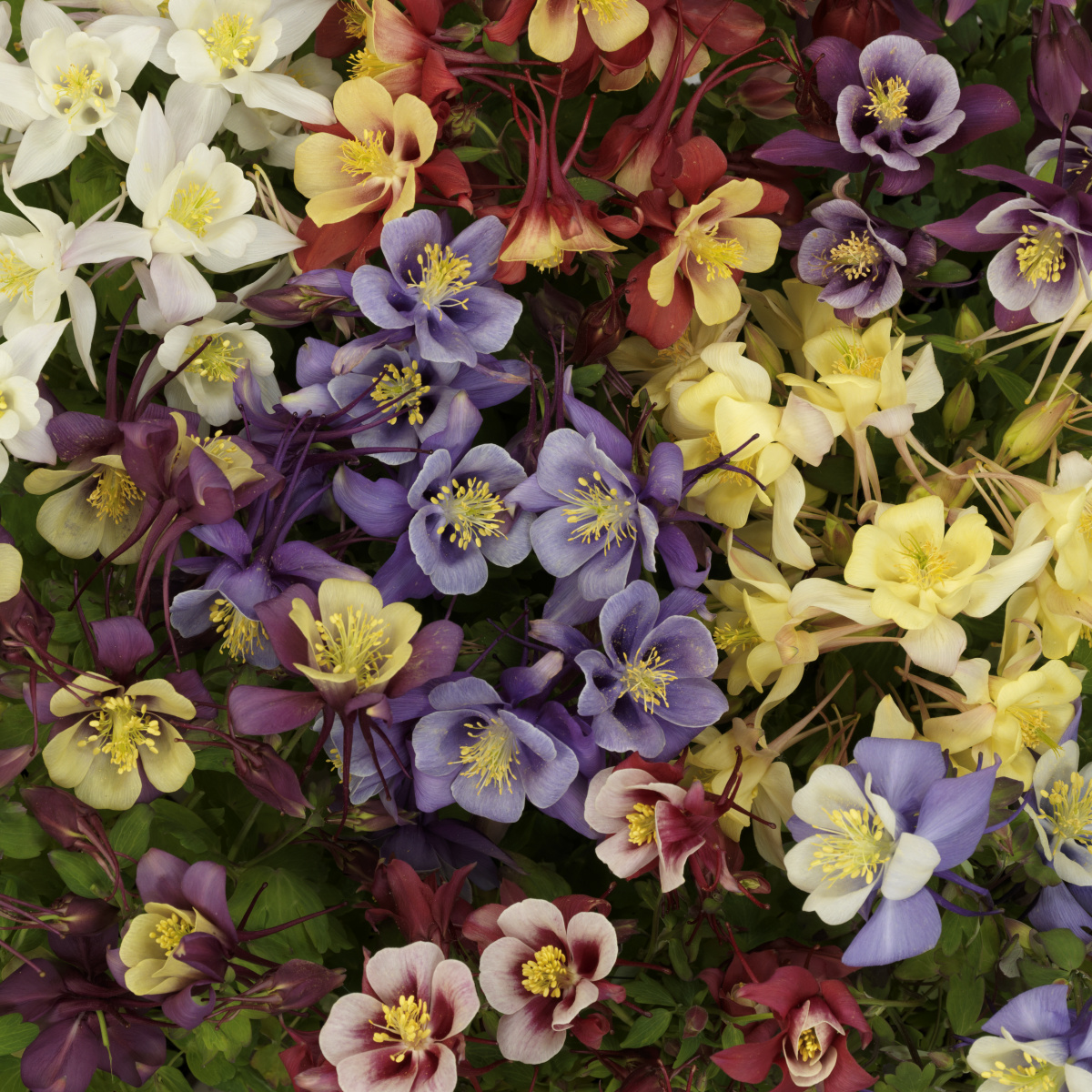 Aquilegia caerulea, Earlybird Mix

9" pot spreading 8", 11" gdn spreading 10"; FYF. This has been a standout in recent spring trials. Vivid and unique new colors and color combinations. Less cold requirement and shorter juvenile stage than any other series to date. Well controlled habit with short stems and mounded foliage. Tight 10-12 day 1st-bloom window and faster finishing are great for early-spring crop programming. For containers, perennial bedding, pansy companion.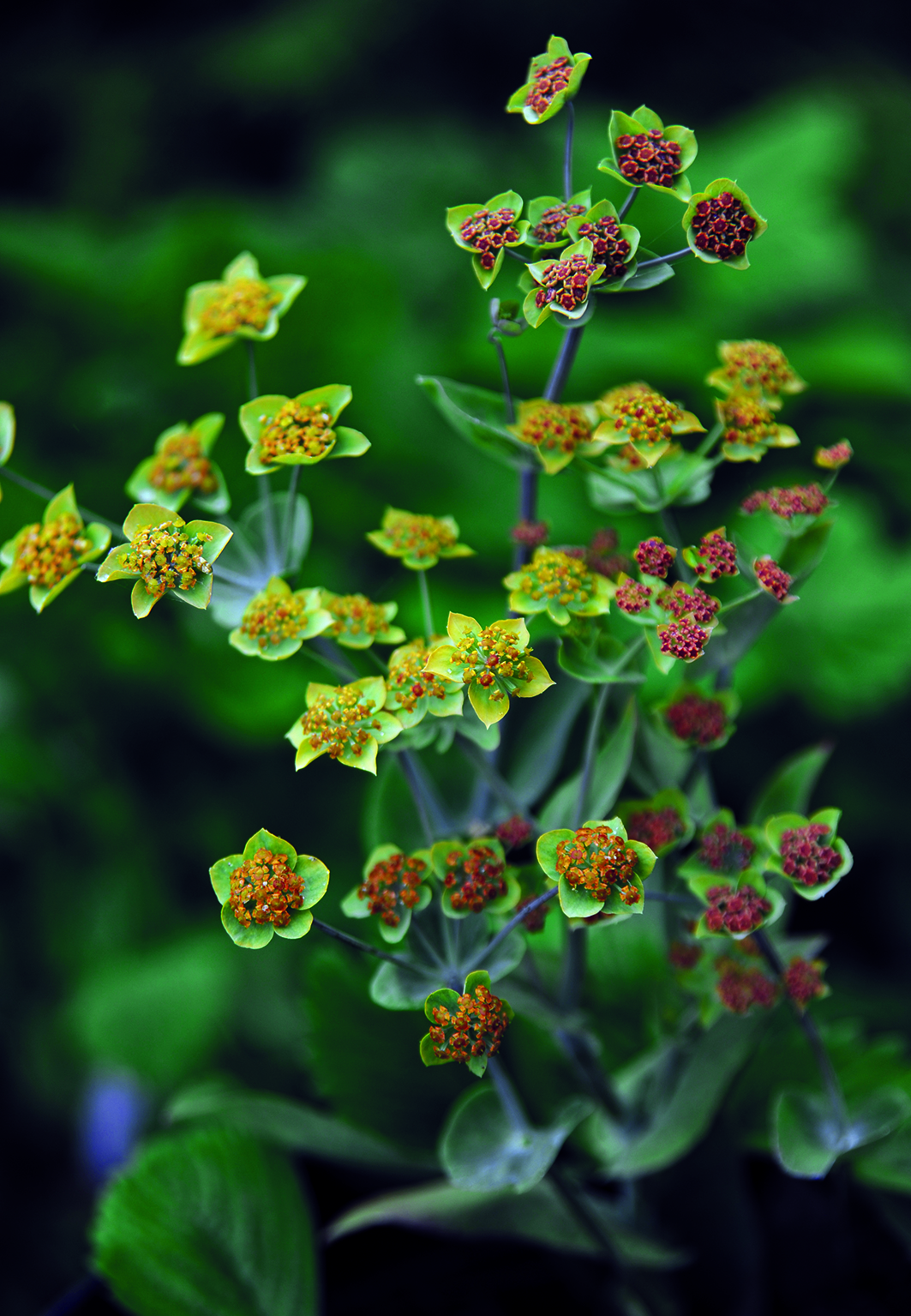 Bupleurum longifolium, Bronze Beauty

20" spreading 16"; FYF. A beautiful cutflower. Sprays of initially yellow flowers turn to bronze at maturity, each subtended by a stiff bright green calyx. Erect flower stems rise above a clump of shiny blue-green foliage. For specialty cutflower production, with ability to provide multi-year harvests, also for rock gardens or raised beds. Likes well drained soil.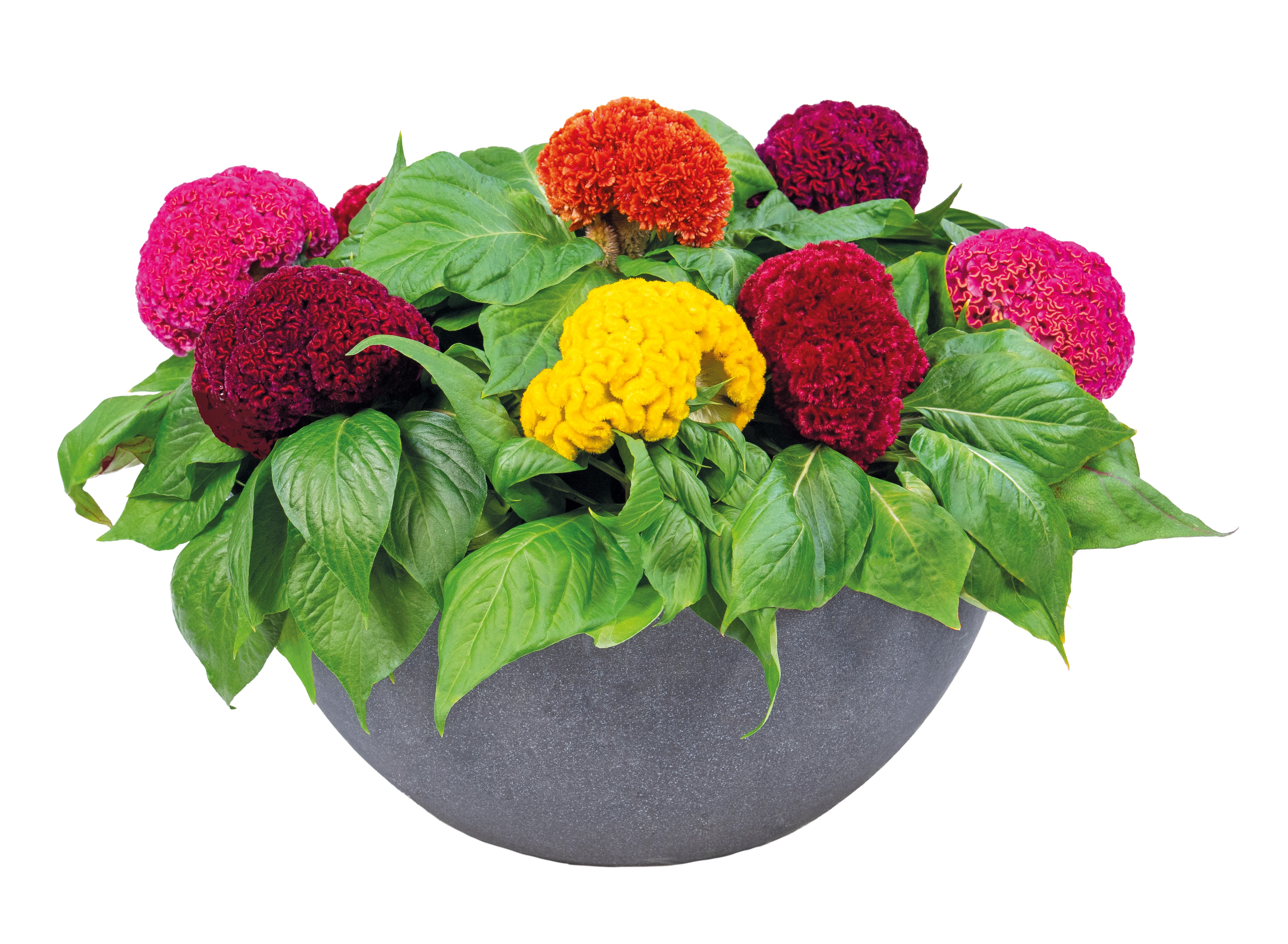 Celosia cristata, Brainiac Mix

6"; Large crested flower heads on short, densely branching plants. This flower type, shaped like a mohawk haircut, has become very popular among cutflower growers. Brainiac's dwarf habit makes it now available for bedding and container sales. Very early, heat tolerant, for full sun to very light shade, suitable for bench run production. Works well in landscapes.
Colors: Lightning Yellow, Mad Magenta, Mix (5 colors), Raven Red, Think Pink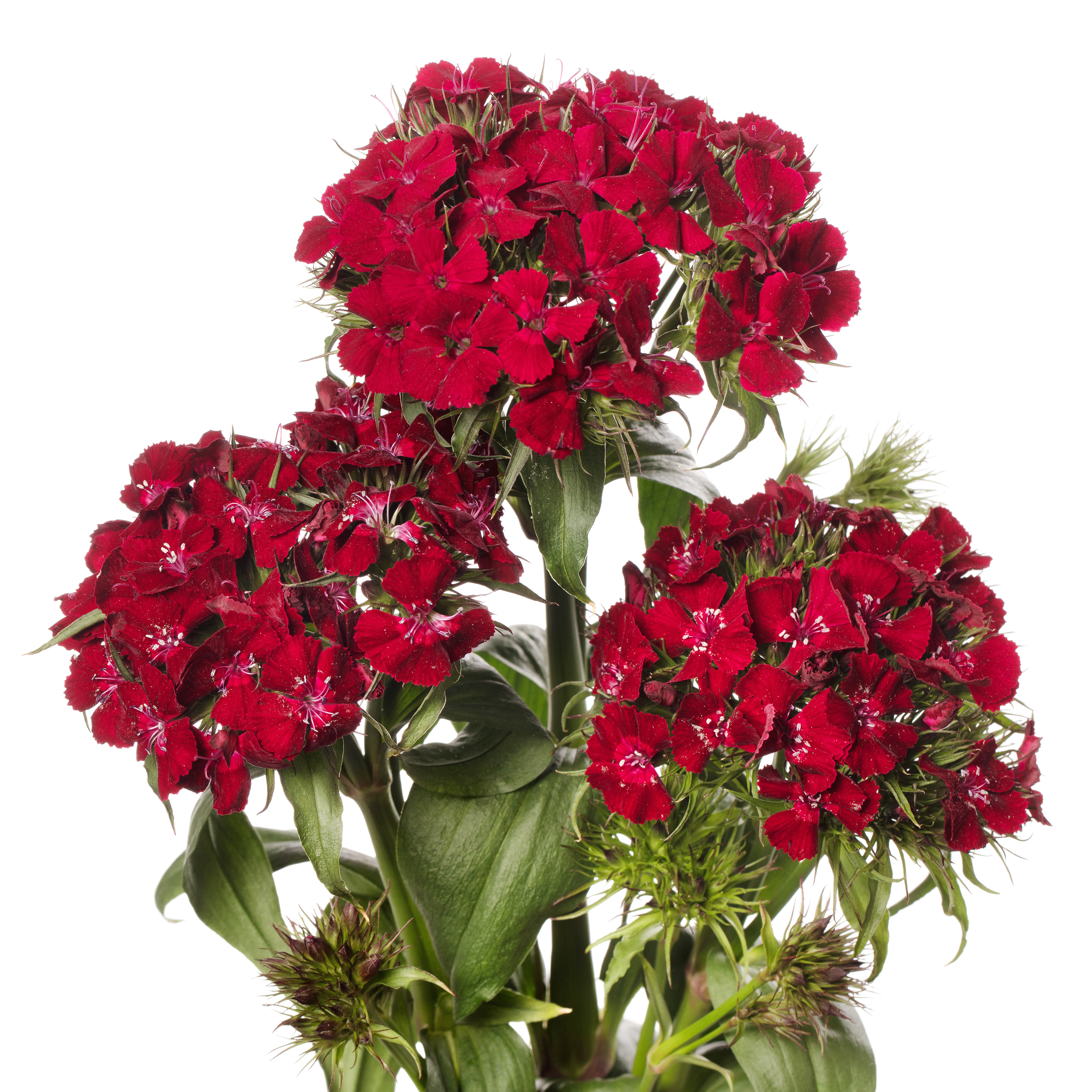 Dianthus barbatus, Barbienne Deep Red

24-32"; Superb biennial cutflower series. Among the earliest to bloom in spring. High yielding and uniform in flower time. Improved tolerance to rust disease vs standard varieties. For professional cutflower production under tunnel or outdoors.

Colors: Deep Red, Rose, Violet, White, Mix (10 colors)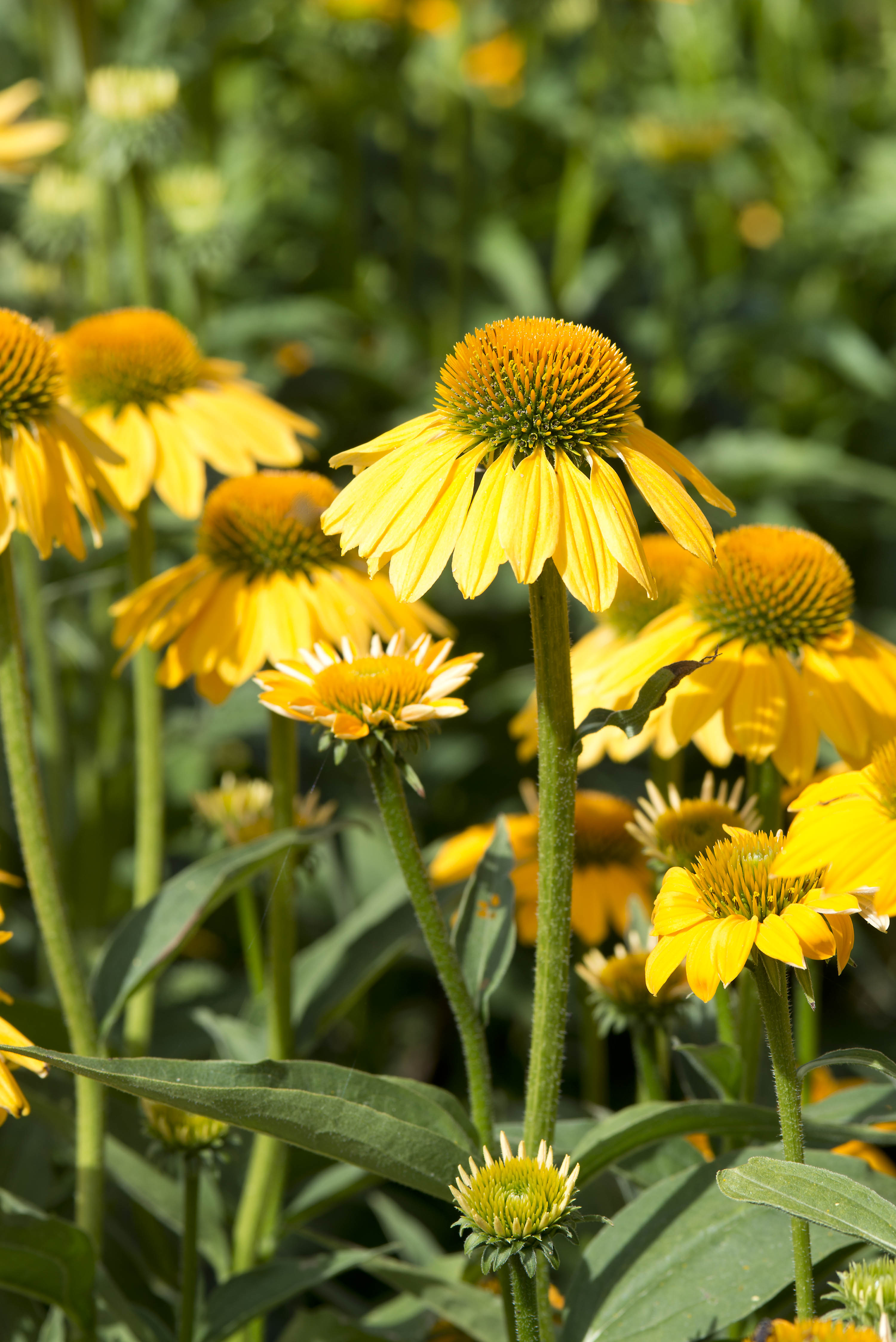 Echinacea x hybrida, Paradiso Tall Yellow

24" pot, 32" gdn; FYF. No Vern. Warm, bright yellow petals surround golden cones. Petals sweep out and slightly downward in graceful abundance. Excellent for perennial border, pots, mixed containers and very valuable addition for perennial cutflower growers.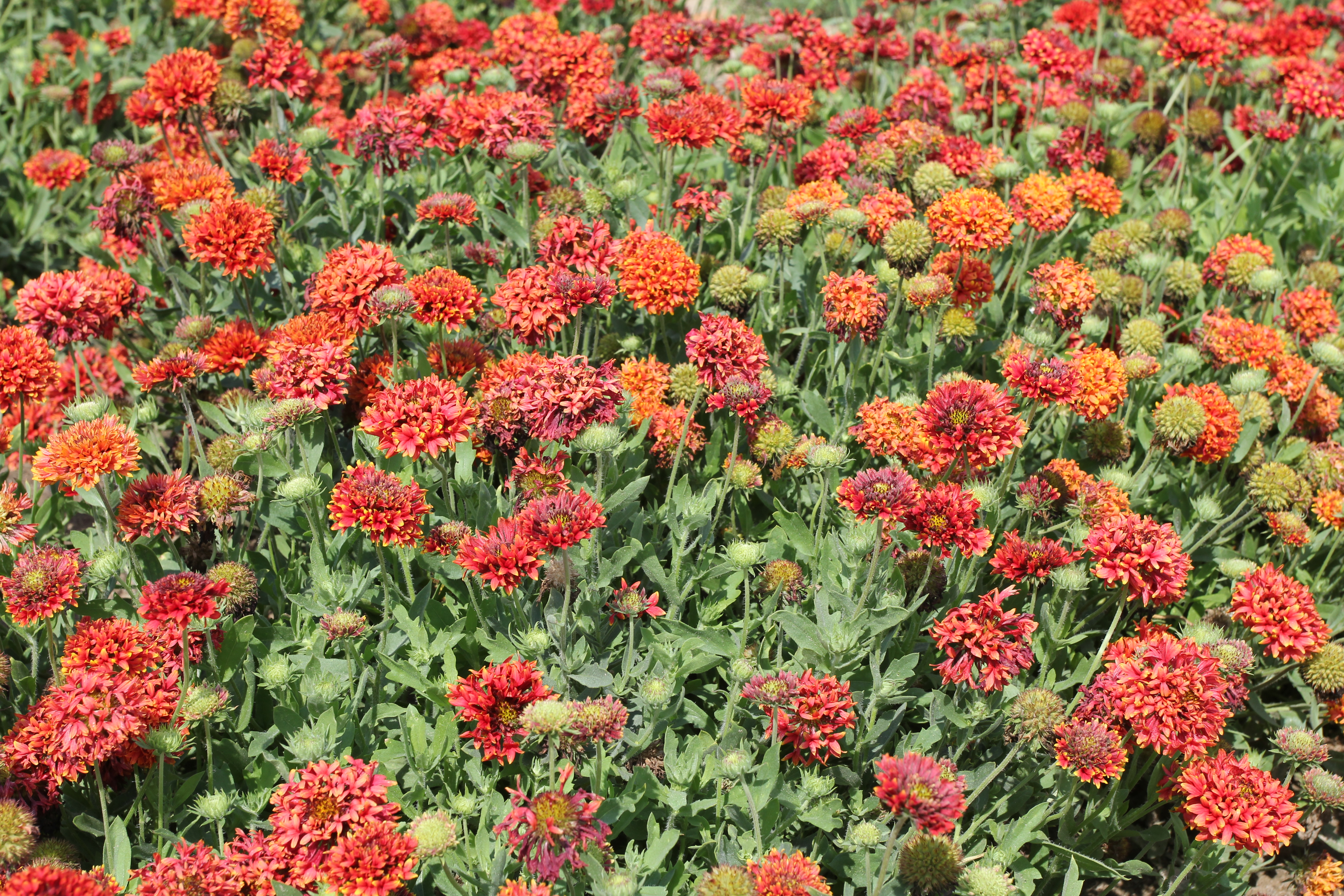 Gaillardia pulchella, Globe Red

20"; Taller at close spacing. Easy growing annual. Large fully double globe shaped flowers atop strong wiry stems. Profuse flowering all summer. Good for field or high hoops as specialty cutflr. Also for showy informal borders. Attracts butterflies and other pollinators.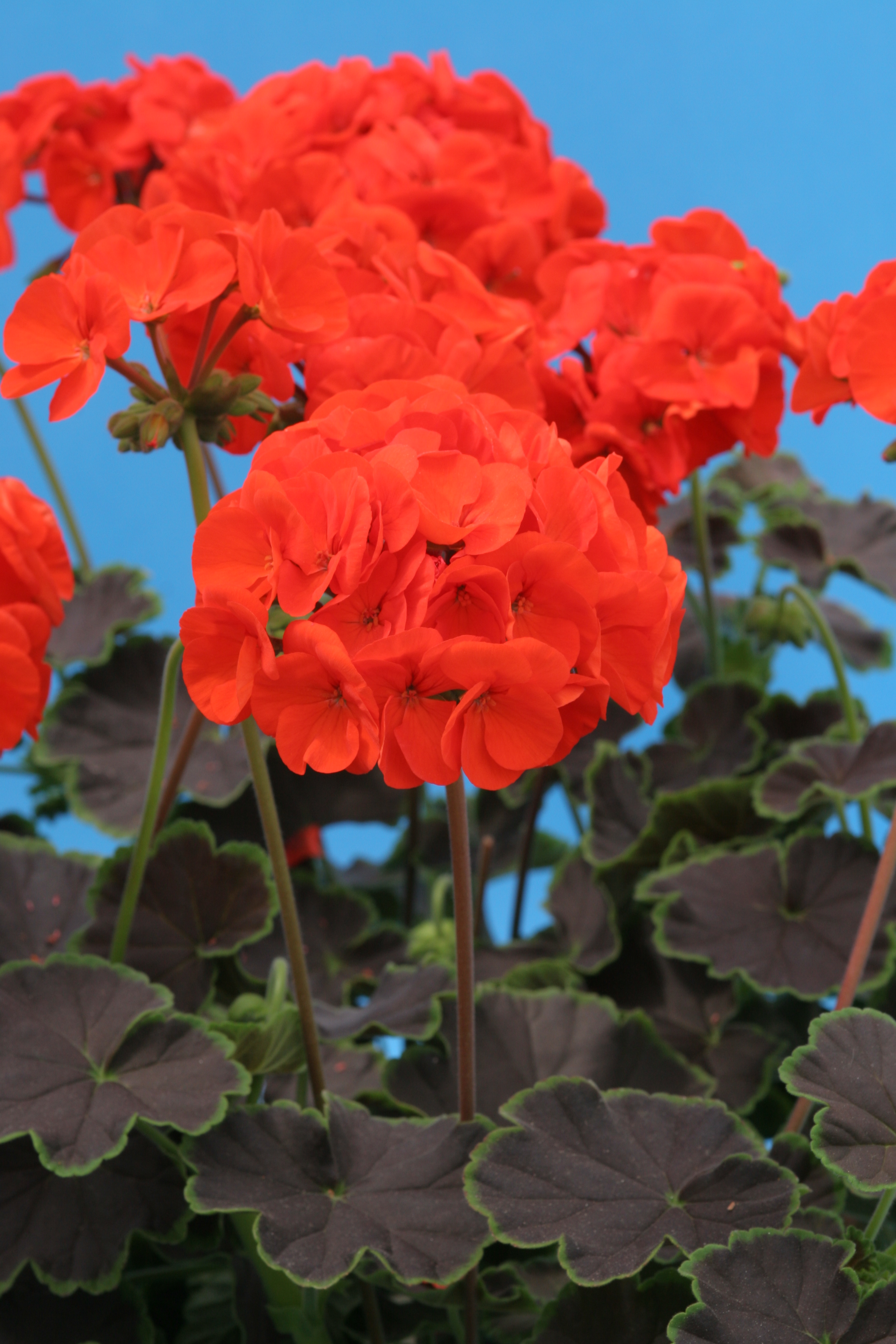 Geranium, Night Scarlet

12" spreading 12"; Highly decorative chocolate maroon foliage with narrow bright green border. Densely branched with small refined leaves and numerous large 5" diam flower heads rising above foliage. Highly resilient, thrives in full sun. Good for constant color appeal from earliest stages of growth onward.
Colors: Mix, Rose, Salmon, Scarlet, Violet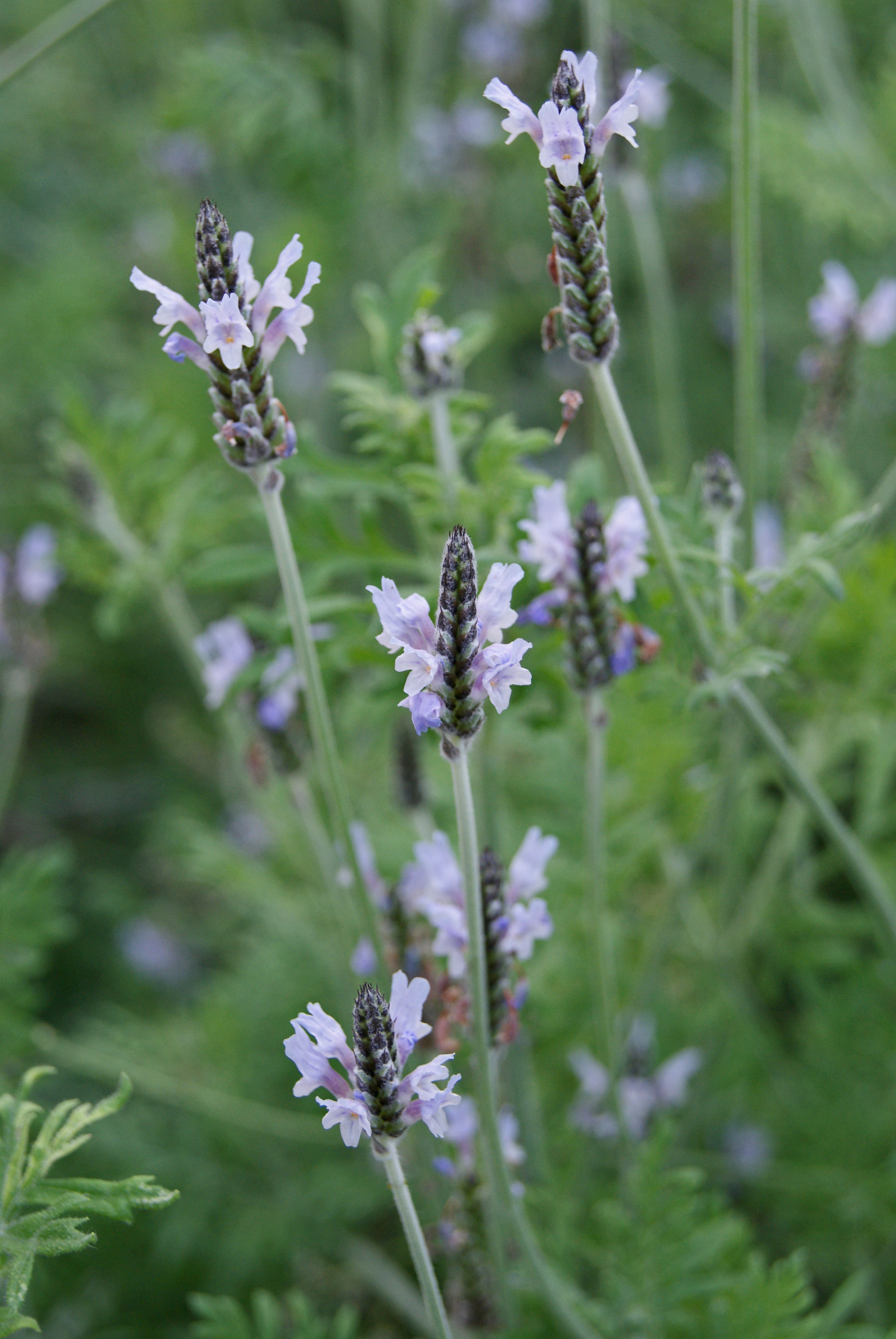 Lavandula multifida, Torch Minty Ice
18" pot, 25" spreading 22" gdn; FYF. No Vern required. Free flowering and fast growing. Very light ice blue flowers borne in branching spikes on every stem, all summer til frost. Finely cut ferny oregano-scented foliage. Nice architectural branching pattern, fills gallons and landscapes well. Ornamental Edible.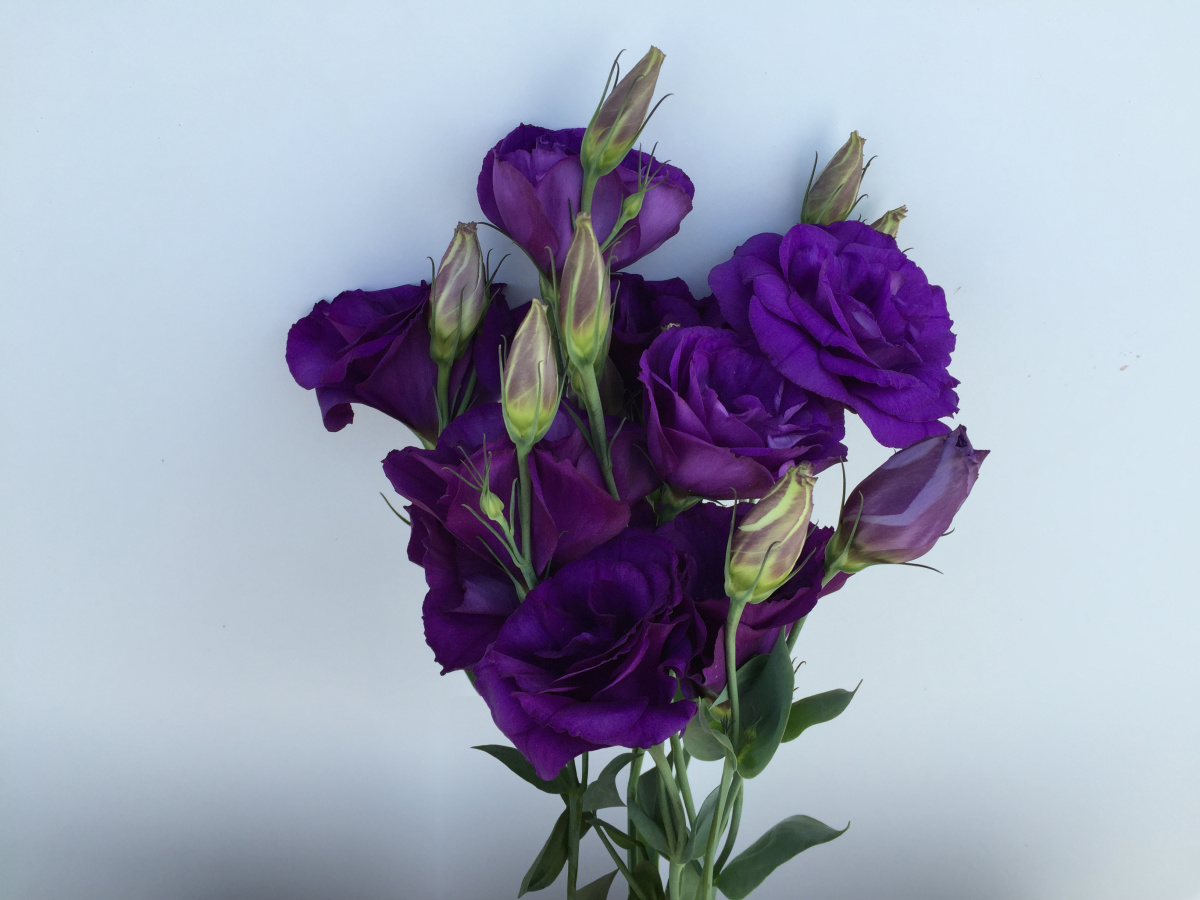 Lisianthus, Can Can Purple

36", to 45" at closer spacing; Group 3-4. Spray type. Large, deep purple blue flowers are densely petalled with a nice rose-form shape. Late flowering for summer crops. Each stem produces a spray of flowers on top that open within a tight window to yield a ready-made bouquet. No pinching needed. These labor saving traits are good for the bottom line. The full spray may reduce the number stems needed in the arrangement. For professional cutflower, under hoops of greenhouse, and in field during summer.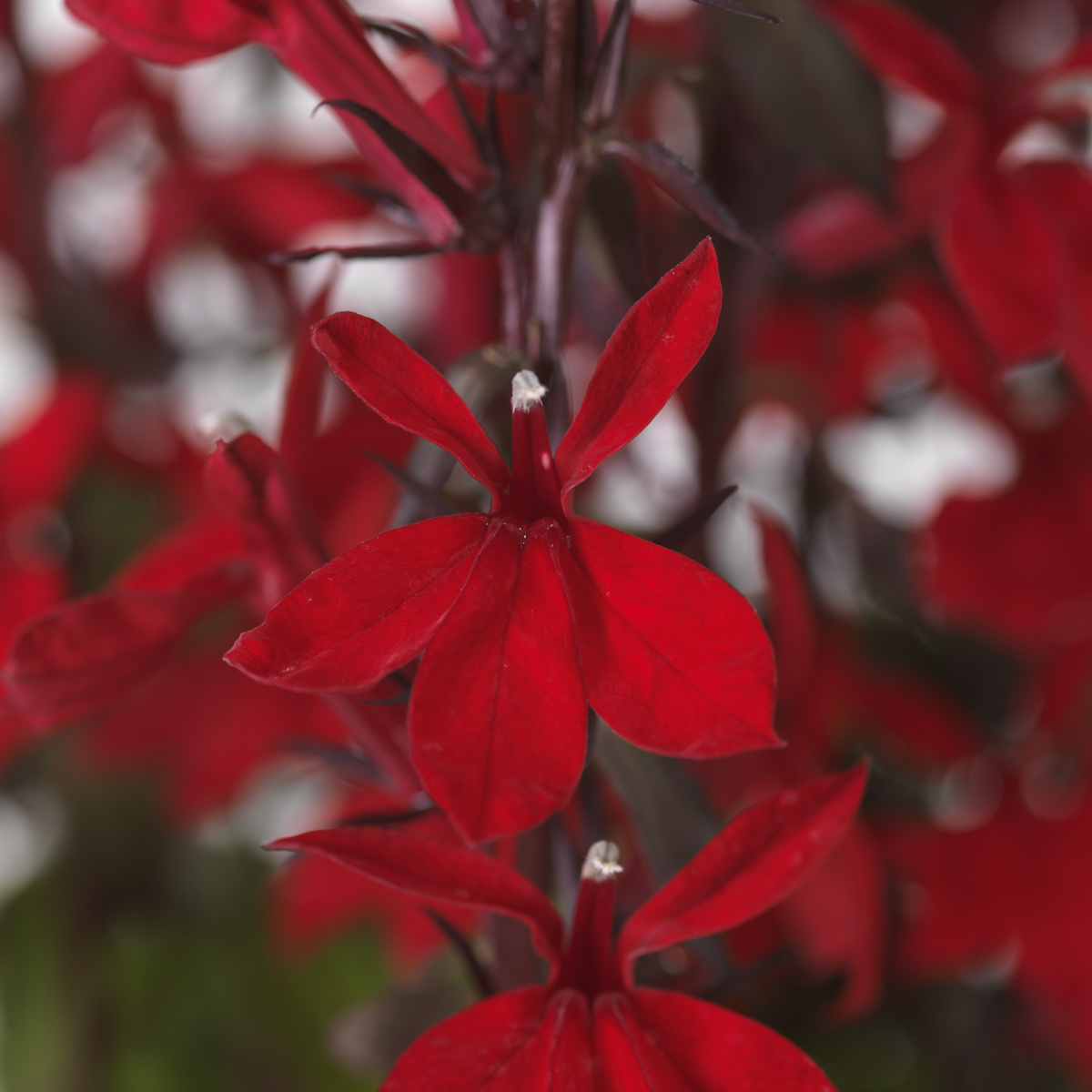 Lobelia speciosa, Starship Scarlet

20" potted spreading 6", 24" gdn spreading 8"; FYF. Extremely uniform habit & timing. Very prolific bloomer in its class. Earliest in trial, improved for branching, less stretching & neat habit. For large containers and borders.
Colors: Blue, Burgundy, Deep Rose, Scarlet, Scarlet Bronze Leaf, Select Mix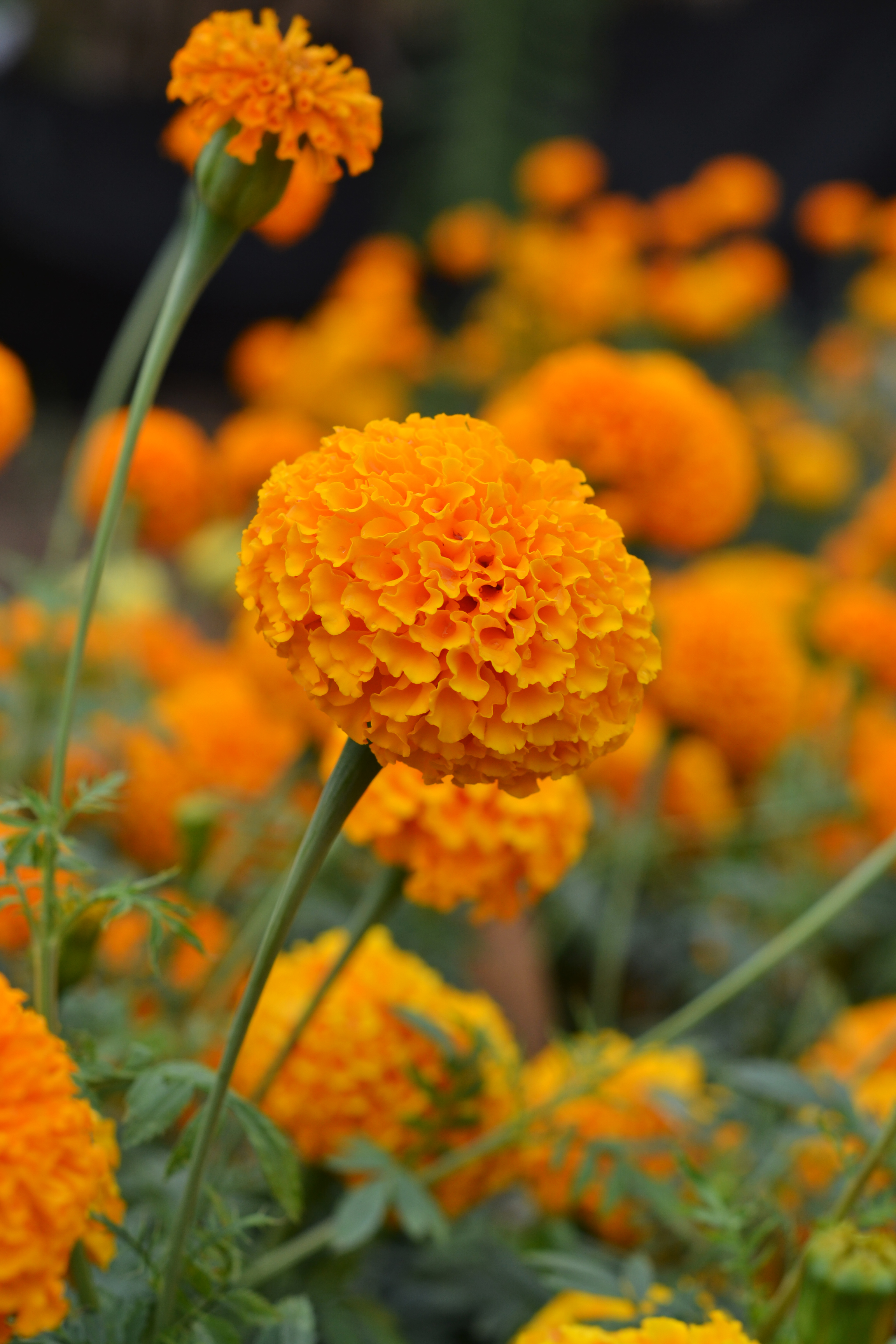 Marigold American, Mayan Orange

36" spreading 30" long-day , 30" spreading 22" short-day; Top quality new hybrid for professional cutflowers. 3" full double flowers are ball shaped, with extra firm petal texture, extended shelf life and good long-distance shipping. Long strong stems and sturdy flower neck. Crop time from transplant to 1st flower is 52 days under short days, 62 days under long days. Selected for disease tolerance and continuous high yield thru hot humid growing season. Also superb in mass landscape.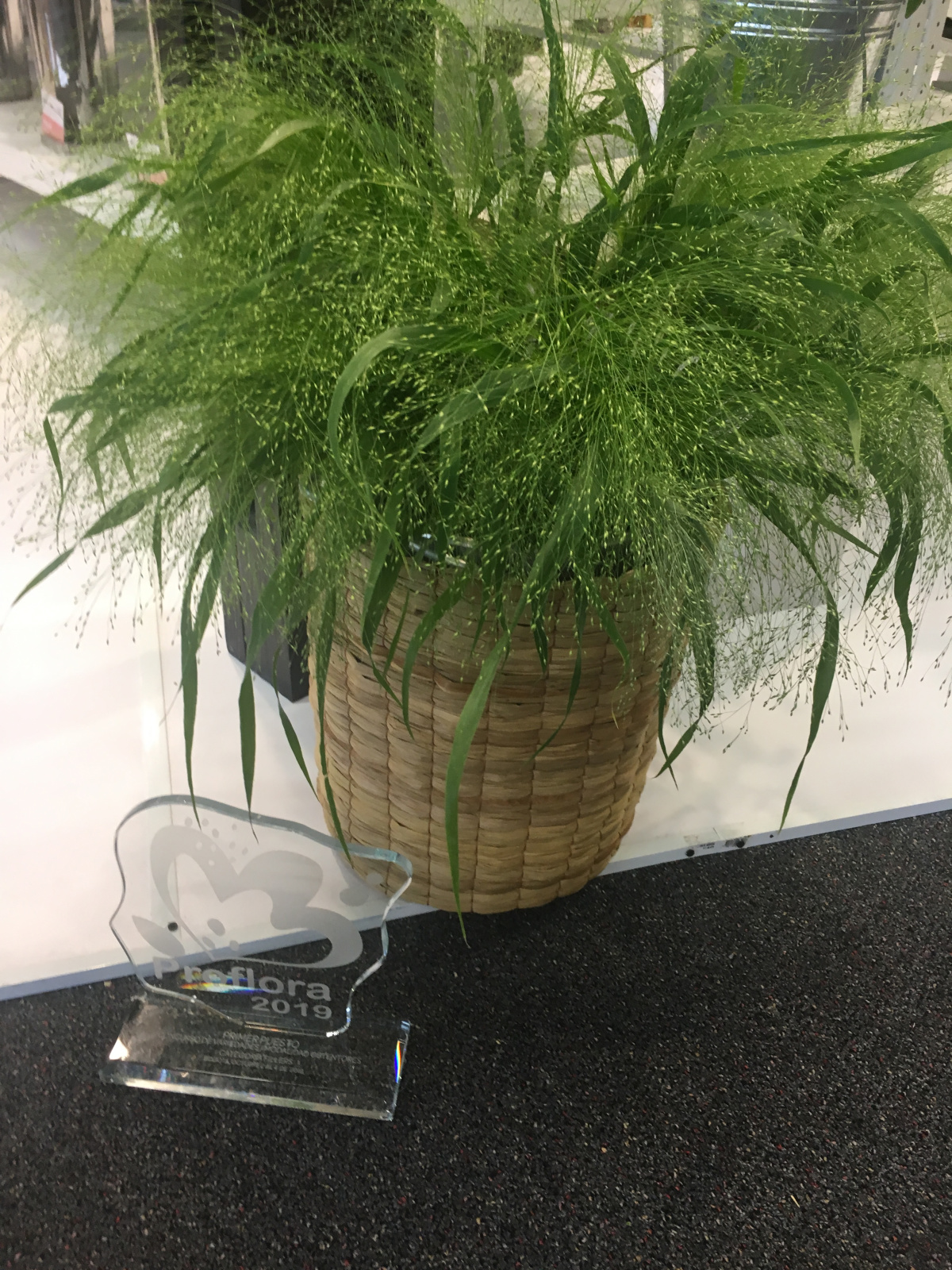 Panicum capillare, Frosted Explosion

24", to 30" at closer spacing; An easy growing ornamental grass for use in informal bouquets or as a filler. Bright green blades with a cloud of tiny green seed-heads rising into the top of the plant. For greenhouse, tunnel or field. Short days will force into bloom, so avoid short days in young stages which could cause bolting with insufficient stem length. Harvest when seed-heads are green. Vase life 10-14 days.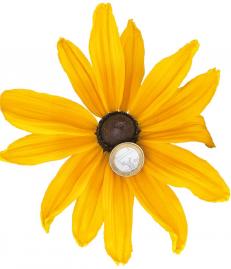 Rudbeckia hirta, Cheyenne Gold

35" cont, 47" gdn; Huge 6" flowers with broad golden overlapping petals and small dark centers. Petals shed rain well. Stiff upright stems are easy to harvest and arrange. Long vase life. For large container, cutflower production both in field and under hoops. Harvest possible in 3 months from sowing and blooms from early summer til frost. Also good and showy for mass landscapes.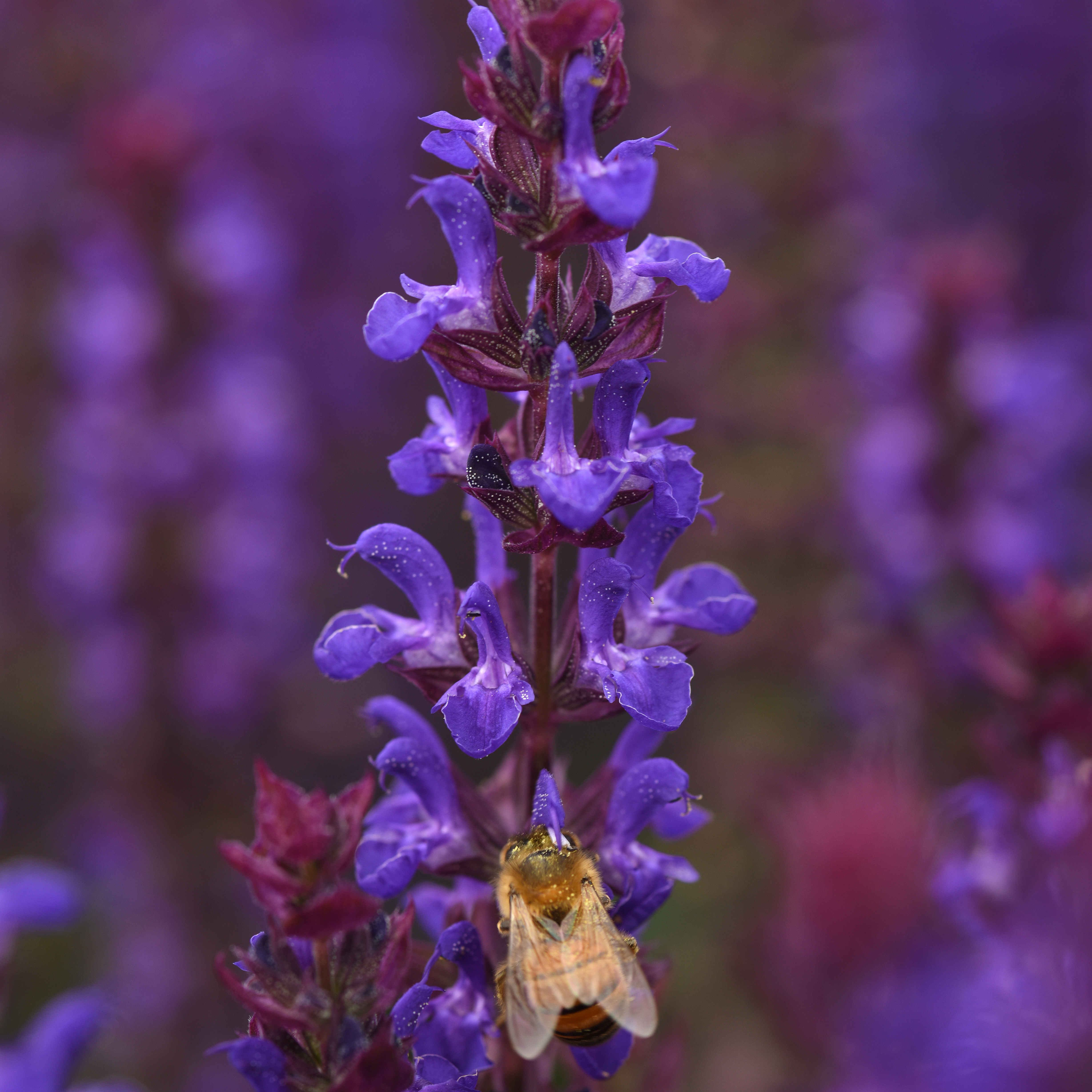 Salvia nemerosa, Salvatore Blue

10" spreading 6" pot, 12" spreading 8" gdn; Premium features offer good option vs vegetatives. Salvatore has the largest, deepest blue flowers of any seed grown nemerosa and lustrous black stems for a striking fancy look. Strong vigor and branching, able to fill gallon containers. Only 10 hr daylength required for budding which enables overwintering for early spring sale as well as spring & summer sowings for summer and fall sales.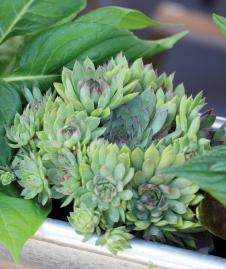 Sempervivum, Hippie Chicks

2-3"; Very cool multicolor blend of species & types, all winter hardy evergreens with succulent leaf rosettes and non-branching flower spikes. Colors range from purple to green, white, yellow, rose, brown and more. Choice structural plants for mixed containers, green roofs, rock gardens, or indoor planters.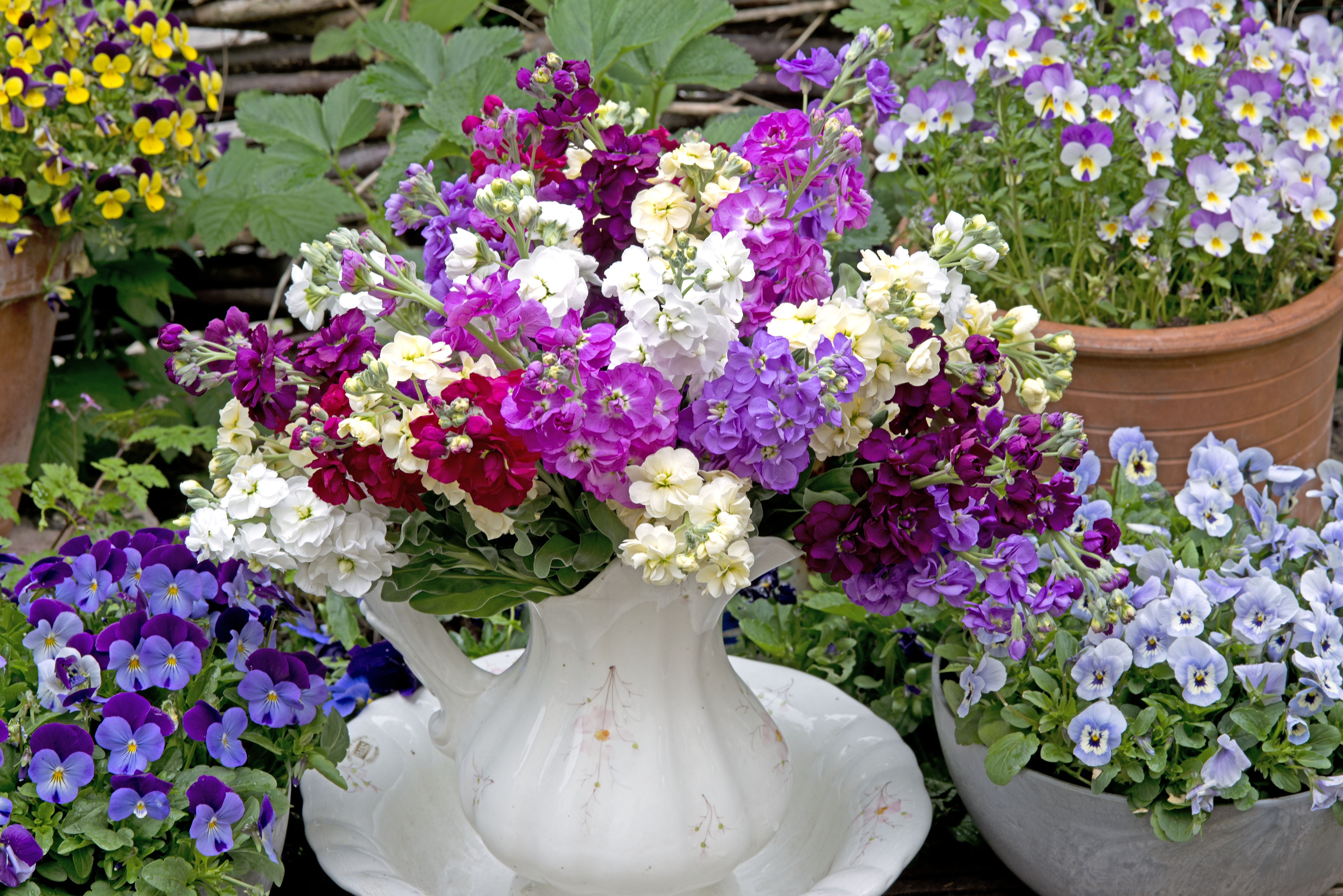 Stock Matthiola, Anytime Mix

30"; Flowers well in summer over long season. Anytime shows good bud formation even at warmer temperatures that end the bloom time for most Stock varieties. Tall lasting stems for cutflowers. 100% selectable for double flowers. Crop time 10-12 weeks from sowing. Formula mix contains 6 colors. For specialty cutflower production.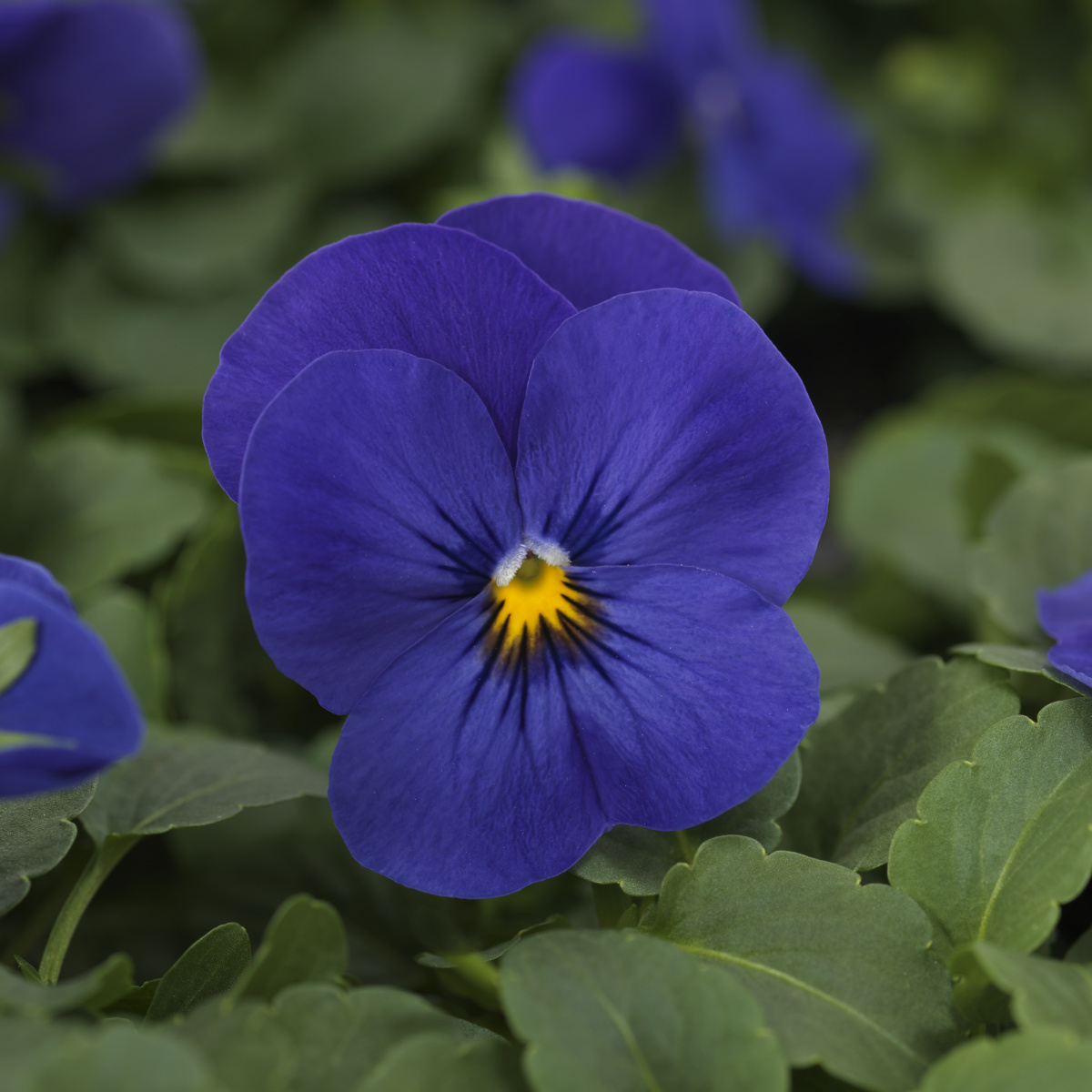 Viola cornuta, Quicktime Blue

6" pot spreading 6", 8" garden spreading 8"; Extremely early, producing color from sowing to bloom, 8 weeks in Fall, 10-11 weeks in spring. Reduced daylength sensitivy and very free-flowering, producing multiple blooms at first flower and with 2nd & 3rd flushes very quickly following. Good choice to shorten growing time in overwintered spring color programs Full, well branched plants.
To view the entire new variety list for 2020-2021 click here: